So excited to link up with Allie and Kay for week 2 of Wedded Bliss Wednesdays!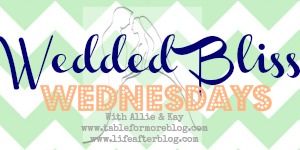 How often do you and your husband have a date night?
Well..that depends on your definition of "date night." Because we don't have kids yet, we have a lot of time to spend together and we do sit down to a meal every night. Actually going out on a date? Not so often. We love to do it, but we're kind of obsessed with saving money so eating out is usually a special occasion thing. We do at least go out for happy hour once a month or so.
What did you do on your first date?
We were at Michigan State. He took me to this nature path and we took a long walk and talked. Then he took me to a little Italian restaurant off campus for dinner and then back to his house to watch a movie. We watched "The Sound of Music"--he knew it was my favorite and the fact that he knew and loved it too was a pretty big selling point :)
What is your favorite kind of date night?
As much as I like to save money, I am still a foodie at heart so whenever we do go out for a really nice dinner, I love it! At the same time, I love getting ice cream and taking a nice walk. I'm pretty simple.

How do you do date night on a budget?
Make a nice dinner at home and rent a movie. That, or we go to a restaurant near our house with happy hour every day. We're talking $2 for a drink happy hour--it's awesome!

What is the best kind of date your husband could surprise you with?!
I love when he calls from work and says "Hi, I'd really like to take you to dinner tonight." It's so sweet to know that he's thinking of me during the day.