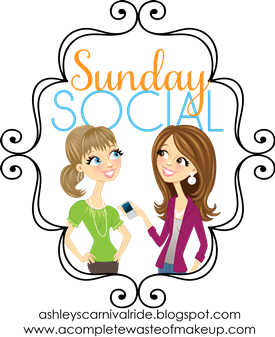 I decided to switch things up and try out a Sunday Social link up this week!
This weeks questions:
Best trip you've ever been on?
This is a tough one for me. I've been very blessed to have been on some pretty awesome trips. Honestly, it's a 50/50 tie. My first favorite was spending a week in Paris with Scott about three years ago. We had friends who rented an apartment there for a month, so we had a free place to stay. We had a blast!
I can't get over how young we look in this picture..
My other favorite trip was our honeymoon last August. We went to Maui and it was incredible. We spend half the trip in Lahaina, a more tourist-y part, and the second half in Wailea. Our gift from my parents was staying in a delux ocean view suite in one of the nicest resorts--the Grand Wailea. It was absolutely amazing!
The view from our suite in Wailea
Dinner at the resort
The pool at The Grand Wailea
Best idea for a girls weekend trip?
I love taking girl friends up to my cottage on Lake Michigan. We usually just vedge around on the beach drinking wine and reading trashy magazines, but it's always a good time!
I also love going to Chicago. It's close enough to where I live that it makes an easy weekend trip.
Best idea for a couples trip?
My cottage is always cheap. Just gas, food, and booze!
Any trip where you can stay with a friend or family member is a great way to save money. Scott and I also like to find a grocery store right away to stock up on some staples so we only have to go out to eat once or twice per day. (Since I'm there, it's usually more like twice :) )
Place you most want to visit?
I have SO many places on my list. Right now, I think Italy is at the top of my list. I'm dying to see Tuscany, Florence, Rome, and the Italian coast.
Vacation necessities?
I really love dressing up on vacation, so I always over pack. A girl needs options! Aside from that, a good book, camera, and comfortable (still cute) shoes!
Have a good Sunday Funday!